Rare-earth-bearing Heusler phases:
multifunctional materials for the future
project leader

Professor Dariusz Kaczorowski

project supported by the National Science Centre (Poland) under research grant no. 2015/18/A/ST3/00057
Project Description
Ternary half-Heusler phases crystallize with the cubic MgAgAs-type crystal structure. Those bearing a d-electron constituent form a very large family of materials characterized by a variety of different physical and chemical properties, useful in many applications, eg. in spintronics and in green energy harvesting. Since several years these compounds have been intensively studied in the context of plenitude of topics (thermoelectricity, magnetocaloric effect, giant magnetoresistance, shape-memory alloys, metal–insulator transition, strong electronic correlations, heavy fermions, superconductivity, half-metals, semimetals, magnetic semiconductors, solar cells, etc.) Owing to their unique multifunctionality being easily tunable by small modifications in their composition, morphology or some external factors, the half-Heusler phases are commonly called as "materials with properties on request".

The three Heusler structures: (A) full-Heusler, (B) half -Heusler, (C) inverse Heusler structure.
While the already accumulated knowledge on the d-electron half-Heusler phases is quite rich, very little is known yet about their rare-earths based counterparts. Pioneering publications in the latter area appeared only few years ago as a result of the experimental investigations carried out at the Institute of Low temperature and Structural Research, Polish Academy of Sciences in Wrocław in cooperation with the Max Planck Institute for Chemical Physics of Solids in Dresden. The results obtained in our joint study constitute a firm basis for the formulation of one of the two main hypotheses in the present project that reads: Rare-earth-based Heusler phases exhibit unique structural, magnetic and/or transport characteristics, highly useful for modern technical and technological applications, and these behaviors can be relatively easily tuned by means of dedicated chemical, metallurgical and/or physical treatments in order to optimize their (multi-)functional performance. Motivated by the results of our own studies as well as some literature data, the series of rare-earth (R) based Heusler phases RTX, where T is a d-electron transition metal (Ni,Pd,Pt,...), and X is a pnictogen (Sb, Bi), has been selected for comprehensive studies on their physical properties, carried out employing state-of-the-art macro- and microscopic experimental techniques and supported by advanced theoretical modelling. The envisaged outcome of the project is a substantial enhancement of the fundamental knowledge on the physical phenomena in rare-earth-based Heusler phases. In turn, results concerning optimization of multifunctional characteristics of these materials might fund a basis for further material-engineering research oriented towards their applications in modern fields of technology.

MgAgAs-type (half-Heusler) crystal structure (C) can be derived by combining a rocksalt-type (A) and a zincblende-type (B) lattice.
The other research hypothesis in the present project assumes that rare-earth-based half-Heusler compounds are promising candidates for topological insulators/semimetals, in which various unconventional physical phenomena, like topological superconductivity, topological antiferromagnetism, spin-wave excitations topologically coupled with electromagnetic field, etc., can be experimentally observed. All those rare features may emerge in RTX phases because of strong spin-orbit interactions of the Rashba-type, which occurs in crystalline systems lacking an inversion symmetry. Nontrivial topological nature of selected RTX compounds has been theoretically predicted by means of electronic band structure calculations, and in recent months confirmed experimentally by leading laboratories in the world. Most importantly, our own feasibility studies, performed on high-quality single crystals of a few RPdBi phases, have indicated the formation of topological states of superconducting or magnetic character. Hence, the main focus in the project will be put first on the emergence of superconductivity and/or magnetism in other RTX ternaries, currently considered as putative topological insulators. Unique attractiveness of the envisaged work comes from the expectation to spot novel many-body phenomena governed by interplay of several order parameters in topologically nontrivial materials. Because of pioneering character of this field, the actual activities will be dynamically adjusted to our own progress and every new scientific data reported by other research groups. The central scientific objective will be profound characterization and understanding novel functionalities of half-Heusler compounds, which have already been recognized in the literature as strategic materials in technological revolution not only in quantum computing, spintronics and magnetoelectronics, but also in the field of renewable energy sources.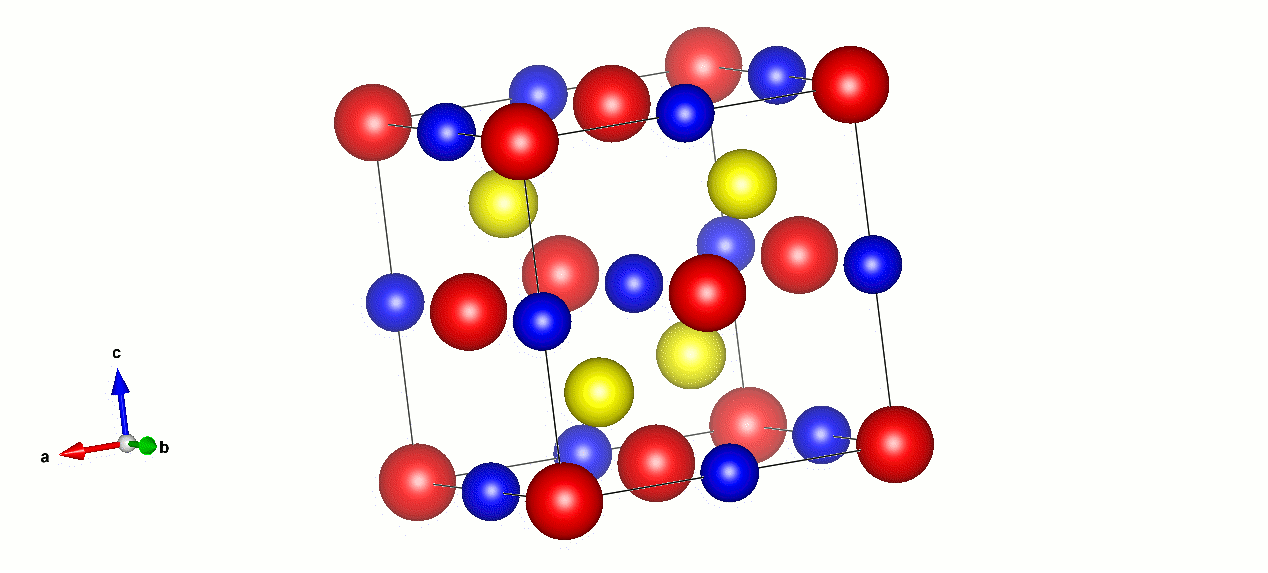 Spinning half-Heusler (HH) crystal structure.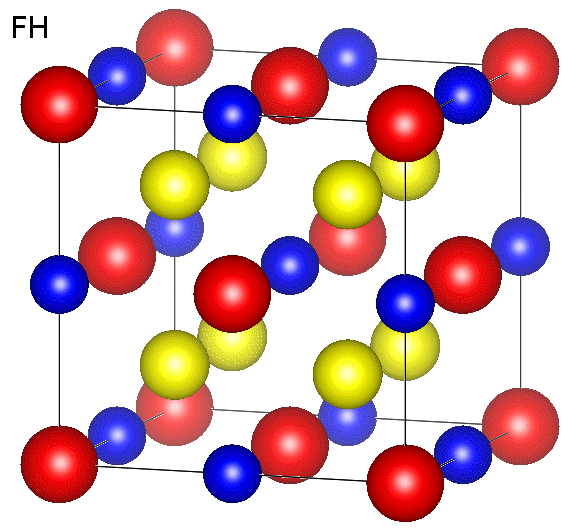 The difference between full-Heusler (FH) and half-Heusler (HH) crystal structure.

Research team
Dariusz Kaczorowski Professor - project leader
Piotr Wiśniewski Professor - main contractor
Orest Pavlosiuk PhD – PostDoc
Karol Synoradzki PhD - PostDoc
Tetiana Romanova PhD
Alicja Hackemer MSc
PhD students:
Students:
Former team members:
Matylda Repa MSc
Patryk Obstarczyk MSc
Maja Kleinert MSc
Patrycja Kowalska
Patryk Fałat MSc

List of Publications
B. Nowak, D. Kaczorowski, "209Bi NMR in Topologically Trivial and Nontrivial Half-Heusler Bismuthides", J. Phys. Chem. C 120, 21797−21801 (2016), DOI: 10.1021/acs.jpcc.6b07135

O. Pavlosiuk, D. Kaczorowski, P. Wiśniewski, "Superconductivity and Shubnikov–de Haas oscillations in the noncentrosymmetric half-Heusler compound YPtBi", Phys. Rev. B 94, 035130 (2016), DOI: 10.1103/PhysRevB.94.035130

M. Neupane, N. Alidoust, M.M. Hosen, J.-X. Zhu, K. Dimitri, S.-Y. Xu, N. Dhakal, R. Sankar, I. Belopolski,

D.S. Sanchez,

T.-R. Chang,

H.-T. Jeng, K. Miyamoto,

T. Okuda,

H. Lin,

A. Bansil,

D. Kaczorowski

,

F. Chou,

M.Z. Hasan,

T. Durakiewicz, "Observation of the spin polarized surface state in a noncentrosymmetric superconductor BiPd", Nat. Comm. 7,

13315

(2016). DOI: 10.1038/ncomms13315

O. Pavlosiuk, P. Swatek, P. Wiśniewski, "Giant magnetoresistance, threedimensional Fermi surface and origin of resistivity plateau in YSb semimetal", Scientific Reports 6, 38691 (2016), DOI: 10.1038/srep38691

O. Pavlosiuk, M. Kleinert, P. Swatek, D. Kaczorowski, P. Wiśniewski, "Fermi surface topology and magnetotransport in semimetallic LuSb", Scientific Reports 7,

12822

(

2017

), DOI:10.1038/s41598-017-12792-8

O. Pavlosiuk, X. Fabreges, A. Gukasov, M. Meven, D. Kaczorowski, P. Wiśniewski, "Magnetic structures of REPdBi half-Heusler bismuthides (RE = Gd, Tb, Dy, Ho, Er)" Physica B: Condensed Matter 536, 56 (2018), https://doi.org/10.1016/j.physb.2017.10.062

K. Synoradzki, K. Ciesielski, D. Kaczorowski, "Magnetocaloric effect in antiferromagnetic half-Heusler alloy DyNiSb", Acta Phys. Pol. A 133, 691 (2018), DOI: 10.12693/APhysPolA.133.691

O. Pavlosiuk, M. Kleinert, D. Kaczorowski, P. Wiśniewski, "Antiferromagnetic order in the half-Heusler phase TbPdBi", Acta Phys. Pol. A 133, 498 (2018), DOI: 10.12693/APhysPolA.133.498

M. Kleinert, O. Pavlosiuk, P. Swatek, D. Kaczorowski, P. Wiśniewski, "Giant magnetoresistance and Shubnikov–de Haas effect in LuSb", Acta Phys. Pol. A 133, 538 (2018), DOI: 10.12693/APhysPolA.133.538

M. J. Winiarski, K. Bilińska, K. Ciesielski, D. Kaczorowski, "Thermoelectric performance of p-type half-Heusler alloys ScMSb (M = Ni, Pd, Pt) by ab initio calculations", J. Alloys Compd. 762, 901-905 (2018), https://doi.org/10.1016/j.jallcom.2018.05.257

K. Synoradzki, K. Ciesielski, L. Kępiński, D. Kaczorowski, "Power factor enhancement in a composite based on the half-Heusler antimonide TmNiSb", Journal of Applied Physics 123, 235101 (2018), https://doi.org/10.1063/1.5038395

O. Pavlosiuk, P. Swatek, D. Kaczorowski, P. Wiśniewski, "Magnetoresistance in LuBi and YBi semimetals due to nearly perfect carrier compensation", Phys. Rev. B 97, 235132 (2018), DOI: 10.1103/PhysRevB.97.235132

I. Wolańska, K. Synoradzki, K. Ciesielski, K. Załęski, P. Skokowski, D. Kaczorowski, "Enhanced thermoelectric power factor of half-Heusler solid solution Sc1-xTmxNiSb prepared by high-pressure high-temperature sintering method", Materials Chemistry and Physics 227, 29–35 (2019), https://doi.org/10.1016/j.matchemphys.2019.01.056

K. Synoradzki, K. Ciesielski, I. Veremchuk, H. Borrmann, P. Skokowski, D. Szymański, Yu. Grin, D. Kaczorowski, "High-temperature thermoelectric properties of the half-Heusler phase ScNiSb", Materials 12, 1723 (2019), https://doi.org/10.3390/ma12101723

O. Pavlosiuk, D. Kaczorowski, P. Wiśniewski, "Negative longitudinal magnetoresistance as a sign of a possible chiral magneticanomaly in the half-Heusler antiferromagnet DyPdBi", Phys. Rev. B 99, 125142 (2019), DOI:10.1103/PhysRevB.99.125142

K. Ciesielski, K. Synoradzki, I. Wolańska, P. Stachowiak, L. Kȩpiński, A. Jeżowski, T. Toliński, D. Kaczorowski, "High-temperature power factor of half-Heusler phases RENiSb (RE = Sc, Dy, Ho, Er, Tm, Lu)", J. Alloys Compd. 816, 152596 (2020),, https://doi.org/10.1016/j.jallcom.2019.152596

M. M. Hosen, G. Dhakal, B. Wang, N. Poudel, K. Dimitri, F. Kabir, C. Sims, S. Regmi, K. Gofryk, D. Kaczorowski, A. Bansil, M. Neupane, "Experimental observation of drumhead surface states in SrAs

3

", Scientific Reports 10, 2776 (2020), https://doi.org/10.1038/s41598-020-59200-2

K. Ciesielski, D. Gnida, H. Borrmann, R. Ramlau, Yu. Prots, D. Szymański, Yu. Grin, D. Kaczorowski, "Structural, thermodynamic and magnetotransport properties of half-Heusler compound HoPtSb", J. Alloys Compd. 829, 154467 (2020), https://doi.org/10.1016/j.jallcom.2020.15446

J. Klotz, T. A. Butcher, T. Förster, J. Hornung, I. Sheikin, P. Wiśniewski, A. Jesche, J. Wosnitza, D. Kaczorowski, "Fermi-surface investigation of the noncentrosymmetric superconductor a-PdBi", Phys. Rev. B 101, 235139 (2020), https://doi.org/10.1103/PhysRevB.101.235139




M. M. Hosen, G. Dhakal, B. Wong, N. Poudel, B. Singh, K. Dimitri, F. Kabir, C. Sims, S. Regmi, W. Neff, D. Murray, F. Weickert, K. Gofryk, O. Pavlosiuk, P. Wiśniewski, D. Kaczorowski, A. Bansil, M. Neupane, "Observation of gapped state in rare-earth monopnictide HoSb", Scientific Reports, 10, 12961 (2020), https://doi.org/10.1038/s41598-020-69414-z

M. M. Hosen, G. Dhakal, K. Dimitri, H. Choi, F. Kabir, C. Sims, O. Pavlosiuk, P. Wiśniewski, T. Durakiewicz, J.-X. Zhou, D. Kaczorowski, M. Neupane, "Observation of Dirac state in a half-Heusler material YPtBi", Scientific Reports 10, 12343 (2020), https://doi.org/10.1038/s41598-020-69284-5

O. Pavlosiuk, P. Fałat, D. Kaczorowski, P. Wiśniewski,

"

Anomalous Hall effect and negative longitudinal magnetoresistance in half-Heusler topological semimetal candidates TbPtBi and HoPtBi", APL Materials 8, 111107 (2020), https://dx.doi.org/10.1063/5.0026956

K. Ciesielski, K. Synoradzki,

I.

Veremchuk, P. Skokowski, D. Szymański, Yu. Grin, D

. Kaczorowski,

"Thermoelectric Performance of the half-Heusler phases RNiSb (R = Sc, Dy, Er, Tm, Lu): High Mobility Ratio between Majority and Minority Charge Carriers", Physical Review Applied 14, 054046 (2020), https://doi.org/10.1103/PhysRevApplied.14.054046

Conference attendance
20th International Conference on Solid Compounds of Transition Elements SCTE 2016, 11-15.04.2016, Saragossa, Spain

O. Pavlosiuk

, P. Wiśniewski, D. Kaczorowski, "Putative topological superconductors RTBi (R = Y, Lu, Ho; T = Pd, Pt): electrical transport and thermodynamic properties", lecture

XIII Internatonal Conference on Crystal Chemistry of Intermetallic Compounds, 25-29.09.2016,

Lviv, Ukraine

O. Pavlosiuk

, D. Kaczorowski, P. Wiśniewski, "Electronic and thermodynamic properties of plausible topological superconductors: YPtBi, LuPtBi, HoPdBi, ErPdBi and LuPdBi",

lecture

C-MAC Days 2016, 21-24.11.2016, Bratysława, Słowacja

O. Pavlosiuk, D. Kaczorowski, P. Wiśniewski, "Electronic and thermodynamic properties of rare earth-based half-Heusler compounds",

lecture

8th International Workshop on Advanced Materials Science and Nanotechnology, 8-12.11.2016, Ha Long, Vietnam

D. Kaczorowski

, "Rare-earth based half-Heusler phases: from thermoelectrics to topological insulators",

invited

lecture

I Konferencja Doktorantów PAN, 23-25.06.2017, Falenty near Warsaw, Poland

Physics of Magnetism 2017 (PM'17), 26-30.06.2017, Poznań, Poland


K. Synoradzki, K. Ciesielski, D. Kaczorowski, "Magnetocaloric effect in antiferromagnetic half-Heusler alloy DyNiSb", poster

O. Pavlosiuk, M. Kleinert, D. Kaczorowski, P. Wiśniewski, "Antiferromagnetic order in the half-Heusler phase TbPdBi", poster

M. Kleinert, O. Pavlosiuk, P. Swatek, D. Kaczorowski, P. Wiśniewski, "Giant magnetoresistance and Shubnikov–de Haas effect in LuSb", poster

P. Wiśniewski, "Rare-earth based half-Heusler phases and monopnictides - magnetotransport, superconductivity and antiferromagnetism",

invited

lecture

Strongly Correlated Electron Systems (SCES 2017), 17-21.07.2017,

Prague, Czech Republic

O. Pavlosiuk, M. Kleinert, P. Swatek, D. Kaczorowski, P. Wiśniewski, "Giant magnetoresistance and quantum oscillations in YSb and LuSb", poster

K. Synoradzki, K. Ciesielski, L. Kępiński, D. Kaczorowski, "Thermoelectric properties of (DyNiSn)1-x(DyNiSb)x composite", poster

O. Pavlosiuk, X. Fabreges, A. Gukasov, M. Meven, D. Kaczorowski, P. Wiśniewski, "Magnetic structures of REPdBi half-Heusler bismuthides (RE = Gd, Tb, Dy, Ho, Er), poster


C-MAC Euroschool 2017, 10-15.09.2017,

Split, Croatia

15th European Conference on Thermoelectrics (ECT2017), 25-27.09.2017,

Padua, Italy

K. Synoradzki, K. Ciesielski, L. Kępiński, D. Kaczorowski, "Effect of secondary LuNiSn phase on thermoelectric properties of half-Heusler alloy LuNiSb", poster

K. Ciesielski, K. Synoradzki, I. Wolańska, P. Stuglik, D. Kaczorowski, "High-temperature thermoelectric properties of half-Heusler phases Er1-xHoxNiSb", poster


XVIII Krajowa Konferencja Nadprzewodnictwa, 8-13.10.2017, Krynica Morska, Poland

P. Wiśniewski, "Superconductivity in rare-earth-bearing half-Heusler bismuthides RPdBi, including antiferromagnets (R = Dy, Ho, Er)",

invited

lecture

C-MAC Days 2017, 20-23.11.2017,

Athens, Greece

P. Wiśniewski

, O. Pavlosiuk, D. Kaczorowski, "Superconductivity in rare‐earth‐bearing half‐Heusler bismuthides REMEBi (RE = Y, Lu, Dy, Ho, Er; ME = Pt, Pd)",

lecture

K. Ciesielski

, D. Gnida, D. Kaczorowski, "Thermoelectric properties and peculiarities of electron transport in half‐Heusler phases LuNiSb, LuPdSb, ErPdSb, YPdSb, GdPtSb",

lecture

4th International Symposium on Advanced Magnetic Materials and Applications (ISAMMA), 10-13.12.2017,

Phu Quoc, Vietnam

D. Kaczorowski, "Rare-earth based half-Heusler phases as thermoelectric and magnetocaloric material", lecture

The 21st International Conference on Solid Compounds of Transition Elements (SCTE'18), 25-29.03.2018, Vienna, Austria

P. Wiśniewski, O. Pavlosiuk, M. Kleinert, P. Swatek, D. Kaczorowski, "Magnetoransport in rare-earth-based half-Heusler phases and monopnictides - non-trivial topology, superconductivity, antiferromagnetism and extreme magnetoresistance", lecture

O. Pavlosiuk, D. Kaczorowski, P. Wiśniewski, "Planar Hall Effect and Chiral Anomaly in Half-Heusler Antiferromagnet DyPdBi", lecture

M. Kleinert, O. Pavlosiuk, D. Kaczorowski, P. Wiśniewski, "Physical properties of half-Heusler lanthanide antimonides", poster


Międzyuczelniana Konferencja Zaawansowane Materiały i Nanotechnologia, 19-20.05.2018, Wrocław, Poland

C-MAC Euroschool 2018, 25-29.06.2018, Kraków, Poland


K. Ciesielski

, K. Synoradzki, I. Veremchuk, H. Głowiński, F. Stobiecki, D. Kaczorowski, "Thermoelectric properties of half-Heusler phases LnNiSb, Ln = Er, Lu, synthesized by spark plasma sintering", poster

K. Synoradzki, K. Ciesielski, D. Kaczorowski, "Thermoelectric properties of half-Heusler based composites (TmNiSb)1-x(TmNiSn)x", poster


37th International and 16th European Conference on Thermoelectrics (ECT2018), 01-05.07.2018, Caen, France

K. Synoradzki, K. Ciesielski, I. Veremchuk, P. Skokowski, D. Szymański, L. Kępiński, Yu. Grin, D. Kaczorowski, "High-temperature thermoelectric properties of the half-Heusler phase ScNiSb", poster

K. Ciesielski, K. Synoradzki, P. Obstarczyk, I. Wolańska, D. Szymański, P. Głuchiowski, D. Kaczorowski, "High-pressure high-temperature (HPHT) synthesis and thermoelectric properties of half-Heusler antimonide TmNiSb", poster


3rd International Conference on Superconductivity and Magnetism in Selected Systems (StoCP2018), 16-21.09.2018, Zakopane, Poland

D. Kaczorowski, "Dirac states in superconducting Pd-Bi binaries", lecture

P. Wiśniewski, O. Pavlosiuk, D. Kaczorowski, "Superconductivity of RETEBi half-Heusler phases (RE= Y, Lu, Dy, Ho, Er; TE = Pd, Pt)", lecture

HERCULES Regional School, 05-09.11.2018, Kraków, Poland

K. Ciesielski, K. Synoradzki, P. Obstarczyk, W. Żuraw, D. Szymański, P. Głuchowski, D. Kaczorowski, "Microstructure and thermoelectric properties of rareearth bearing half-Heusler compounds", poster

ECMatAC Days 2018, 03-05.12.2018, Poznań, Poland

O. Pavlosiuk

, D. Kaczorowski, P. Wiśniewski, "Planar Hall effect as a sign of chiral magnetic anomaly in half-Heusler phases DyPdBi and ScPtBi", lecture

K. Synoradzki

, D. Kaczorowski, "Magnetic and magnetocaloric properties of TmNiSn", lecture


XIII Wrocławskie Studenckie Sympozjum Chemiczne, 17-18.11.2018, Wrocław, Poland


I. Wolańska, K. Synoradzki, K. Ciesielski, K. Załęski, D. Kaczorowski, "Właściwości termoelektryczne faz Heuslera Sc1-xTmxNiSb", lecture


Ogólnopolska Fizyczno - Optyczna Konferencja FOKA 2018, 15-16.12.2018, Wrocław, Poland


I. Wolańska, K. Synoradzki, K. Ciesielski, K. Załęski, D. Kaczorowski, "Analiza faz Heuslera Sc1-xTmxNiSb metodą SEM/EDS", poster


APS March Meeting, 4-8.03.2019, Boston, USA


K. Ishihara,

T. Takenaka, T. Miao, Y. Mizukami, O. Pavlosiuk, P. Wiśniewski, D. Kaczorowski, T. Shibauchi, "Low-energy quasiparticle excitations in half-Heusler superconductors with j = 3/2 fermions", lecture


3rd German-Polish Conf. on Crystal Growth, 17-21.03.2019, Poznań, Poland


D.Kaczorowski,

"Single crystal growth and electronic transport properties of topological semimetals", invited lecture


V Ogólnopolska Konferencja Interdyscyplinarna "Eureka", 29-30.04.2019, Krzyżowa, Poland


P. Fałat

, O. Pavlosiuk, D. Kaczorowski, "Własności transportu elektronowego potencjalnego semimetalu topologicznego TbPtBi", lecture


International Thermoelectric Workshop on New materials for direct conversion of heat into electricity, 8-9.05.2019, Kraków, Poland


I. Wolańska

, K. Synoradzki, K. Ciesielski, K. Załęski, P. Skokowski, D. Kaczorowski, "Thermoelectric properties of half-Heusler solid solution Sc1-xTmxNiSb synthesized by high-pressure-high-temperature method", poster


K. Ciesielski

, K. Synoradzki, I. Veremchuk, P. Skokowski, Yu. Grin, D. Kaczorowski, "Thermoelectric properties of f-electron half-Heusler TmNiSb", poster


LIV Zakopane School of Physics Breaking Frontiers: Submicron Structures in Physics and Biology, 21-25.05.2019, Zakopane, Poland


D.Kaczorowski

, "Topological semimetals", invited lecture


Letnie Warsztaty Naukowe "Niskie Łąki 2019", 4.07.2019, Wrocław, Poland


P. Wiśniewski

, "Izolatory topologiczne: dlaczego się nimi interesujemy i jak możemy je badać", invited lecture


24th Soft Magnetic Materials Conference, 04-07.09.2019, Poznań, Poland


K. Synoradzki

, D. Kaczorowski, "Magnetic properties of ErNiSb half-Heusler phase", poster


International School of Physics "Enrico Fermi: Advances in Thermoelectricity: Foundational Issues, Materials, and Nanotechnology" 15-19.07.2019, Varenna, Italy

K. Ciesielski,

"Half-Heusler compound TmNiSb synthesized by high pressure high temperature (HPHT) method", lecture

45 Zjazd Fizyków Polskich, Kraków, 13-18.09.2019, Kraków, Poland


P. Wiśniewski,

"Half-Heusler topological phases and high multiplet, p-wave pairing superconductors", invited lecture


Strongly Correlated Electron Systems (SCES 2019), 23-28.09.2019, Okayama, Japan

O. Pavlosiuk

, P. Wiśniewski, D. Kaczorowski, "Magnetotransport Properties of Plausible Topological Semimetal HoPtBi", poster

Workshop on Topology, Strongly Correlated Electron Systems and Complex Structures, 03.12.2019, Dresden, Germany


P. Wiśniewski,

"Half-Heusler topological phases, likely high-multiplet, p-wave pairing superconductors", invited lecture


IV Ogólnopolska Studencka Fizyczno-Optyczna Konferencja FOKA 2019, 07-08.12.2019, Wrocław, Poland


P. Wiśniewski,

"Materiały topologiczne. Dlaczego się nimi interesujemy i jak możemy je badać", invited lecture

Scientific apparatus
purchased from the project funds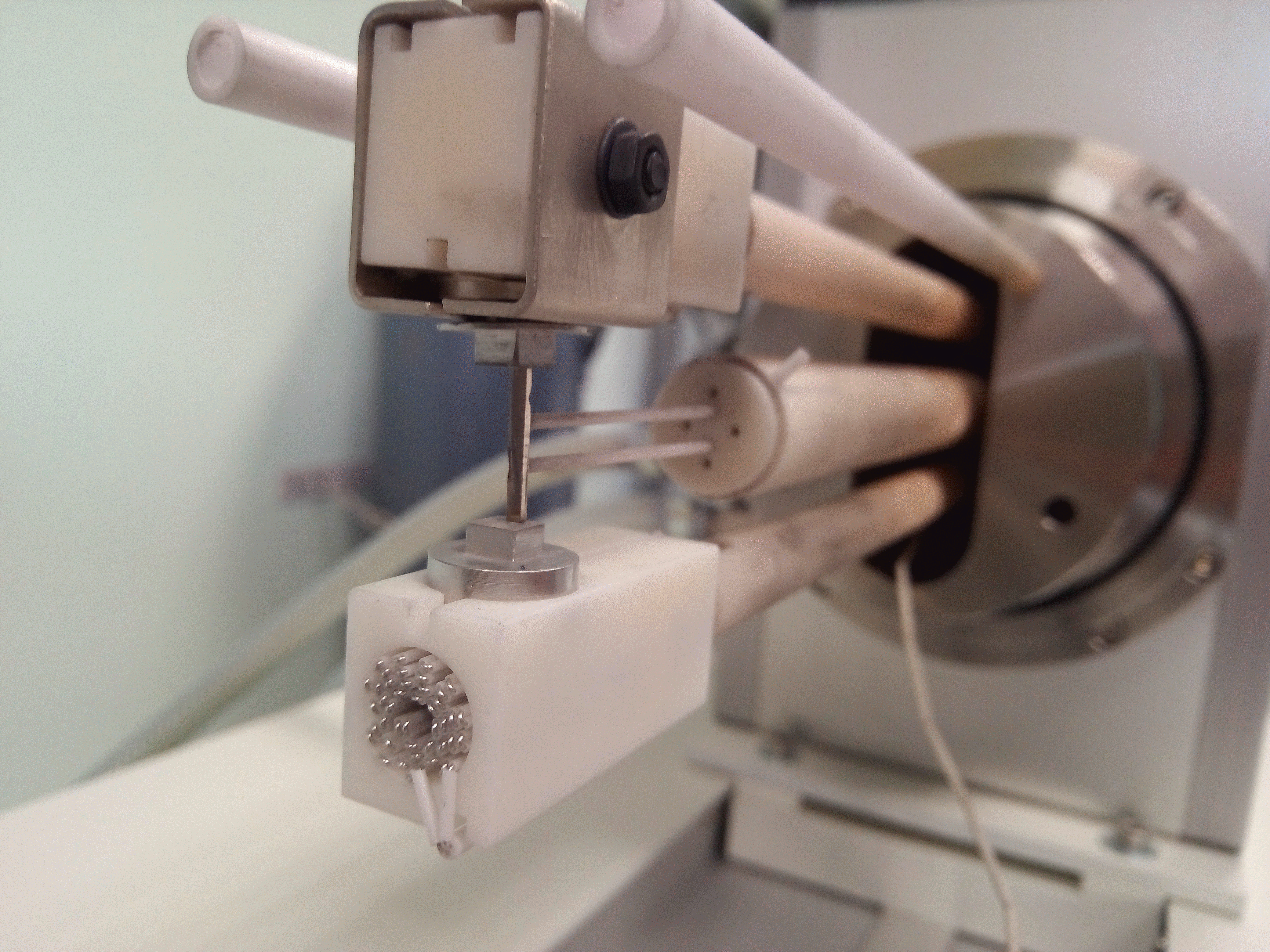 Linseis LSR -3
Seebeck Coefficient & Electric conductivity measurement Unit
Temperature range: RT up to 1100°C
Atmosphere: He
Sample size: 2 to 4 mm square or up to 6 mm diameter and 23 mm long (max)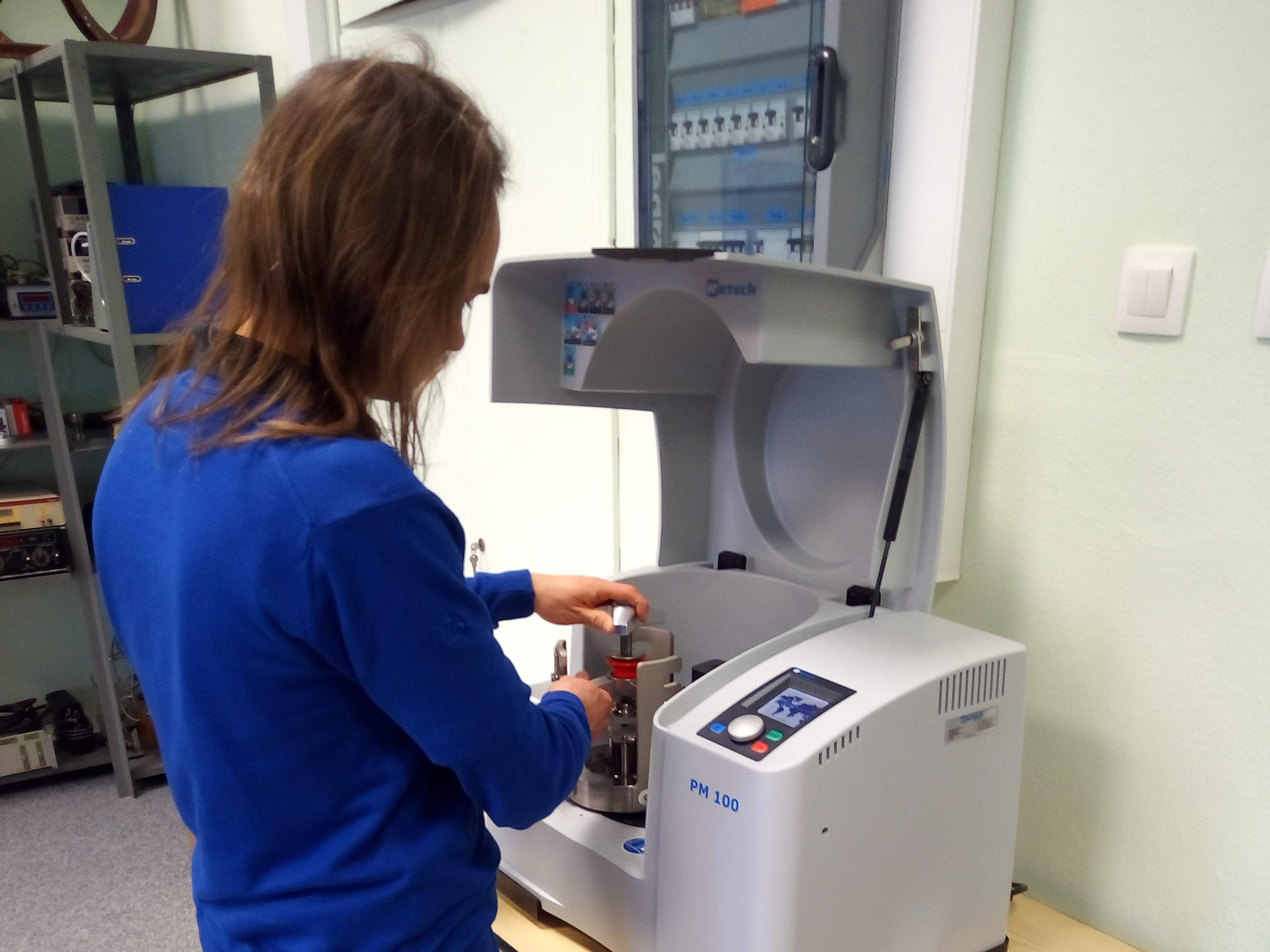 Planetary Ball Mill Retsch PM10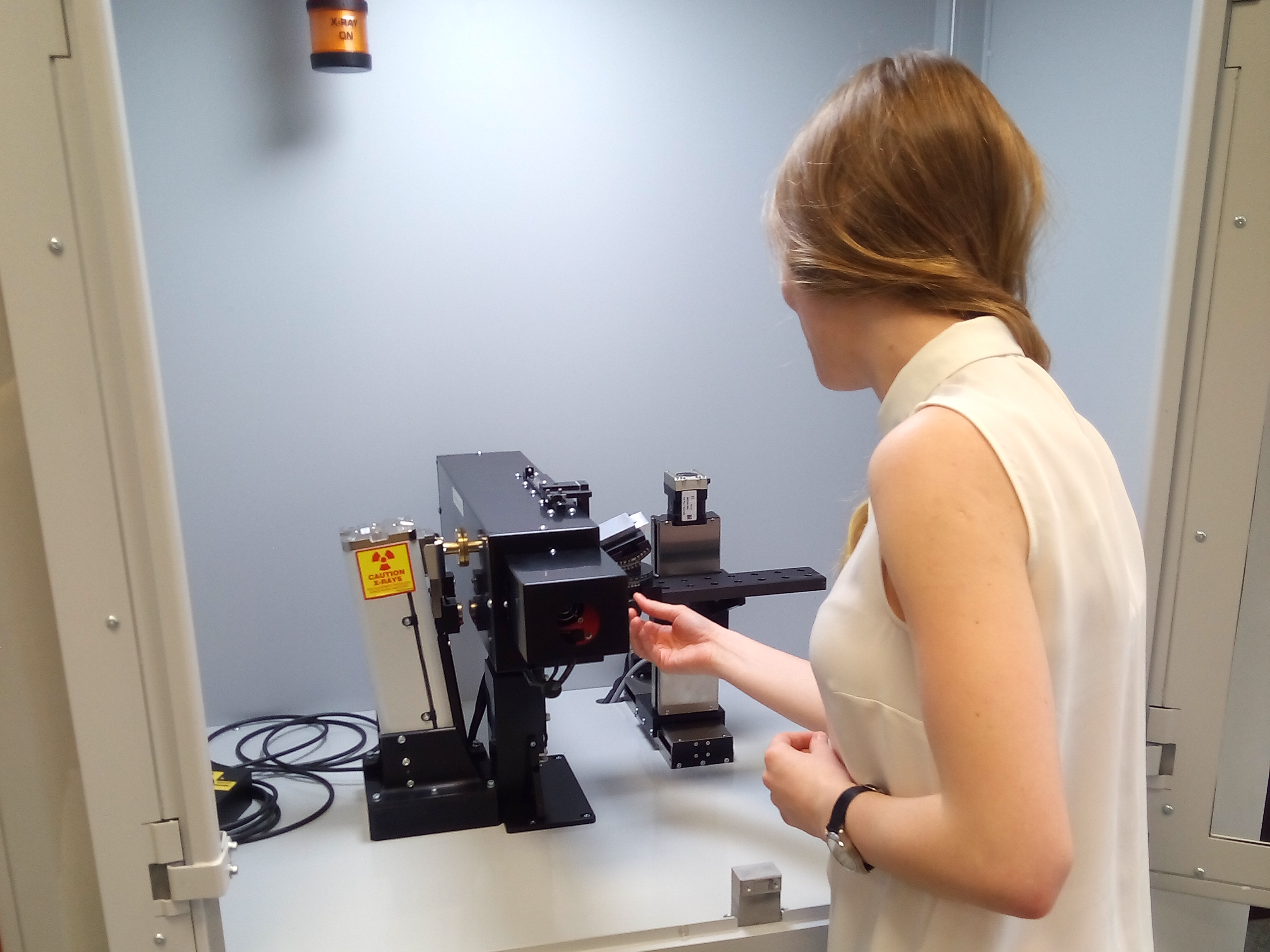 LAUE-COS by PROTO
X-ray Diffraction Crystal Orientation System
Contact us



Institute of Low Temperature and Structure Research
Polish Academy of Sciences in Wrocław

Okólna 2, 50-422 Wrocław, Poland

Email: project leader: d.kaczorowski@intibs.pl

webmaster: o.pavlosiuk@intibs.pl